Last week's blog ended with me jumping on a train at Dundee and heading south where, about ninety minutes later, I got off at Edinburgh although, just to set the spacio-temporal scene straight, I suppose I should offer assurances that I'm haven't been breaking any curfews or flouting government health advice restrictions but merely stretching time, since all that follows was actually occurring about two-and-a-half-weeks ago in that happier time before viruses started going viral. And so it was that after touching down and dumping my bag in the nearby hotel there was just enough time to take hike up the hill to get to the Scottish National Gallery.
Much smaller than its marvellous sprawling sister establishment in London, the more compact displays here are nevertheless very attractively presented and contain some real gems. Things get off to a really spectacularly good start with the opening Renaissance rooms that show off Botticelli's Virgin Adoring the Sleeping Christ Child followed by da Vinci's Madonna of the Yardwinder, a Raphael pieta (see above), a great couple of Titians (Venus Rising and an allegory of man ageing) as well as assorted lesser Lippis, Lottos and the like. Then follows another great second wave of Italians with some Veronese mythology (see below) and Tintoretto religiosity before Velazquez brings things down to earth with the simple potent poignancy of his Old Woman Cooking Eggs and then El Greco brings things full circle by giving his Saviour of the World (main featured image) a bit of a pre-Renaissance Byzantine twist.
Other, later highlights include the biggest Vermeer in captivity and a great Rembrandt self-portrait which, judging by the look in his eyes, suggests that this is from the time in his life when things are about to start falling apart. Finally the Brits start to make a late entrance with a great Hogarth portrait that, at first glance, seems to be celebrating the humble modesty of a pious women quietly contemplating the rosary that lies on the table in front of her although, since the sitter is revealed in the accompanying label to be Sarah Malcolm, a murderess awaiting her execution, perhaps the moral message is slightly more ambiguous. Another couple of nearby portraits – Reynolds' magnificent picture of three very posh Waldegrave Sisters (see below) and Gainsborough's full length rendition of the equally Honourable Mrs Graham – are more straightforwardly flattering records of the beauty of the aristocratic upper classes.
After which,I have to race through a few rooms in order to make a quick dash round an impressive Impressionist round-up which, again, boasts a very respectable display with some Degas dancers, Gauguins from both Brittany (see below) and Tahiti, a few lovely speckled Seurats, a nicely jagged Van Gogh landscape with olive trees and a Cezanne showing his favourite Mont Sainte-Victoire fracturing into the shards that helped launch the 20th century's subsequent exploration of Modernistic experimentation.
And apologies if I sounded a bit breathless in those last two paragraphs but I was in something of a hurry with not much more than an hour to race round that great historical collection before getting a bit more up-to-date by crossing the walkway to get to the neighbouring Royal Scottish Academy. It's the last twenty minutes of the last day of the New Contemporaries show featuring work from 60 or so young artists who have been judged to have been the best of those recently graduating from the main Scottish colleges of art. So, barely enough time to get even a general overview of what's going on in this part of the world but sufficient perhaps to confirm that while there's still a bit of painting going on – abstract, faux naif, cartoony and grafittiesque – the favoured student style still seems to be very much like the rest of the UK and, as far as I know, the rest of the globalised world.  So the majority of works seem to be sort of light Conceptualistic mix of loose assemblages and scattered installations that brush upon matters concerning identity or the environmental.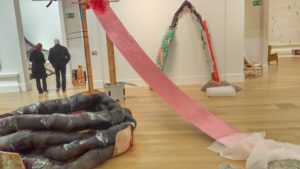 At which point I should probably repeat that this was just the most fleeting of impressions gained in a ridiculously short time and so may well reflect more about what I expected to see than what I actually did see or could have seen, should have seen or would have seen with more time available. Having said that, all the work looked professionally well-presented and would easily fit into any of the contemporary art shows that I've seen in any of the grant- funded galleries, commercial spaces or, indeed, art fairs over the past few years. Which, on reflection, is perhaps part of the general problem with contemporary art scene at the present time – although, following the ramifications of that particular philosophical strand of thought is going to have to wait for the blogological ramblings of another occasion.
Another paragraph and another day dawns and I'm still in Edinburgh, now holding on to my pre-purchased ticket to see A Life in Drawing, the exhibition celebrating the quincentenary of the death of Leonardo da Vinci that's currently on show at the Queen's Gallery in Scotland. And, in fact, one of the main reasons I decided to start out on this northerly tour in the first place was because about six months ago, when I initially tried to visit the same exhibition at the Queen's Gallery in London, the touristic queues were so long that I gave up and went on a ramble to see something else. The point being that when I learned that the show of drawings was subsequently travelling on to Her Majesty's other exhibition space, I thought the visitor numbers would be more reasonably reduced here – not, I hasten to add, because the Scots themselves are any less culturally curious than the Brits but because I'm pretty sure that there are fewer foreign tourists travelling around up north than there are touring down south.
And so it proves to be the case as I breeze into the show and can happily see that there are only a few dozen other visitors looking at the displays. Although – and here comes the horribly ironical problem – everyone seems to be wearing those irritating audio headsets through which a guide is evidently instructing each listener to stop in front of each picture and subserviently wait until the disembodied commentator has burbled a way through his lengthy discourse. The result is that at any one moment every picture seems to have two or three visitors stuck in front of it, all acting in unison – pausing, listening rather than looking, and blocking the view – until suddenly, simultaneously everyone is instructed to move on to the next sight. The subsequent synchronised manoeuvres of this tedious crocodile queue means that I have great difficulty getting to see things, either having to wait for occasional gaps in the line to appear, and then opportunistically darting in for a quick gawp, or else being forced to resort to barging some of the smaller people out of the way.
Viewing conditions are not, therefore, ideal and I grow increasing irritated by the unreasonableness of all the other people who seem determined to get their own proper look at the works to the detriment of my own attempts to see the show. I suppose I could pick up a set of headphones and plod around with the rest of robots but part of the reasons for going to galleries and looking at art is to enjoy the freedom of being able to look at what appeals and think for oneself about what is going on without being force fed the opinions or others or being told when and what is meant to be looking at. In short, the drawings that I did get to see were, rather as expected, small, covered an amazingly varied range of subject matter and, of course, very beautifully rendered, but the exhibition experience as a whole was, very unexpectedly, not at all the enjoyable exhilarating experience I had hoped for and travelled so very far to see.
No matter, Edinburgh has its other treats and, after a long but not uninteresting walk back into town and then out of it, I reach the Scottish National Gallery of Modern Art where, prior to getting to see the pictures, I feel in need of a sandwich or some such simple reviving sustenance. Prissy, twee, poncey – I'm sure the Scots have their own word for it – suffice to say that it took considerably longer for the very sweet waitress to get my order – a cheese toastie that, as the menu so lovingly explained, was carefully constructed from the rarest of fine comestibles and seasoned with the most specially sourced condiments before being garnished with the perfectly processed products of…oh get on with it…and I did, and it was gone in a few big bites – before then waiting another age for the pleasure of paying a tenner or more – although I'm not really sure that the strange notes that they have up here really count as proper money.
Aaarghhh and thank goodness that the subsequent patrol around the actual displays was worth all the faffing around in the tearoom. Aside from the slow-moving cafe, which contains the amusing insertion of a Brobdingnagian Paolozzi sculpture of Vulcan, and adjacent rooms containing a replica of the artist's studio (see above) at one end and a library of Surrealist art at the other, the rest of the display spaces currently contain the same Paula Rego exhibition that had previously been on show in Milton Keynes. Since I've already blogged about that a few months ago I decide to give it a miss and instead cut through the gardens and cross the road to get to the other main Gallery space. And here is the excellent permanent collection which offers up a very reasonable chronological sweep through the main Modernist movements of the past century with enough good works to hold the attention – a particular highlight being the large specialist section on Surrealist art that draws upon the Gallery's major holdings. And here, following in Surrealism's spirit of illogical disjunctures, unexpected irrationality and randomised dream narratives I propose to stop the reverie, halt the journey and put everything on pause, ready to reawake next week when I'll bring my Scottish sojourn to its final happy conclusion.